Chiropractic
Chiropractic Adjustment: Century Wellness Clinic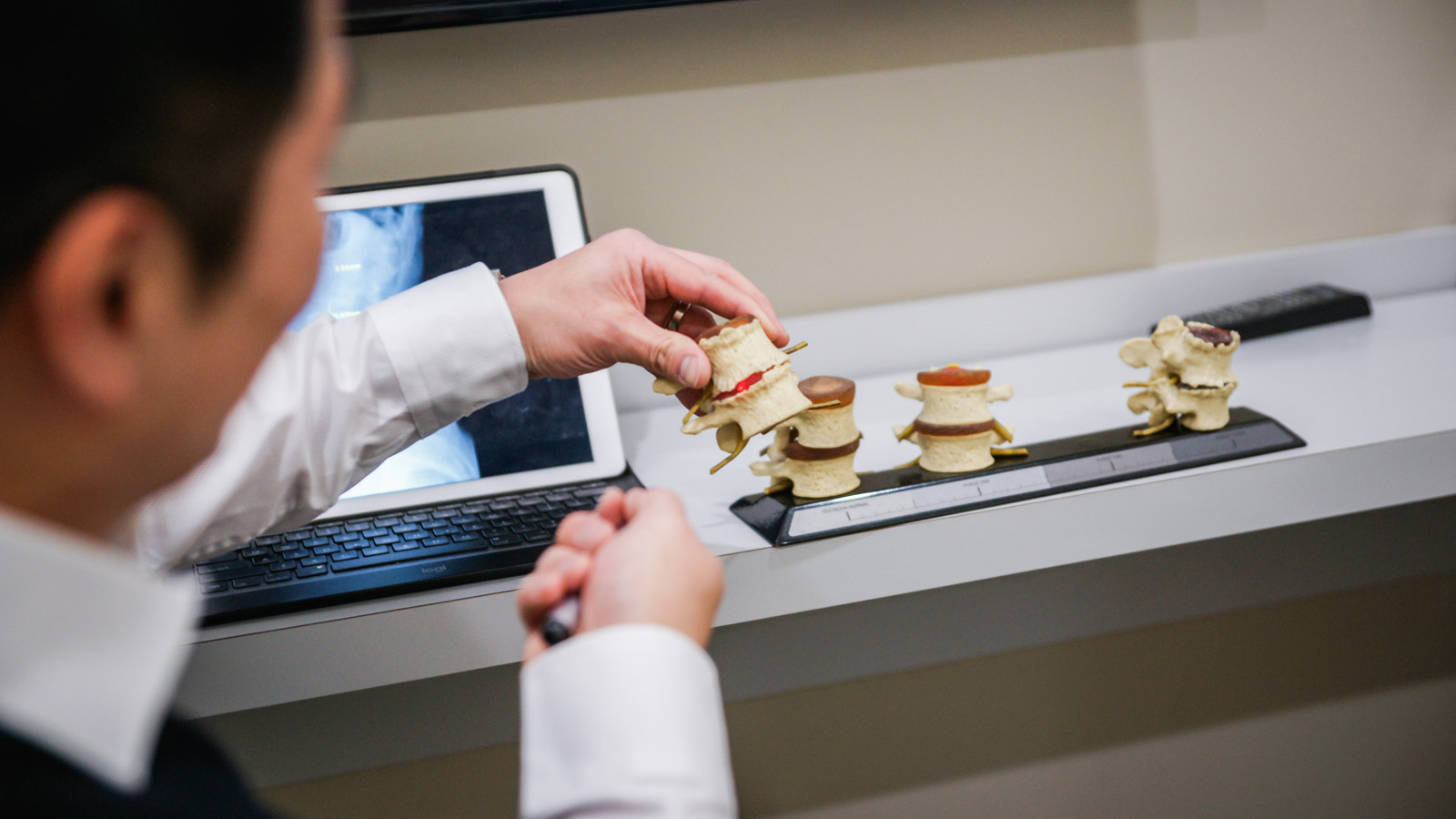 Chiropractor adjustment is a procedure in which trained specialists (chiropractors) use their hands or a small instrument to apply a controlled, gentle force to a spinal joint.
Our bodies rely and depend on the balance, strength, and flexibility of our spinal system. The spinal system, connecting from our head all the way down to our lower back, houses important nervous and circulatory systems. Imbalances of the spinal system can be caused by repetitive daily activities or from previous trauma. Imbalances and misalignment of this delicate system can cause pain, numbness, and discomfort, and if left uncorrected these conditions could compromise normal body function and lead to chronic problems.
Chiropractor adjustments or realignment differs from general mobilization and can be effective in ensuring proper nervous system function.
Book Appointment
Chiropractic Care Frequently Asked Questions

Chiropractic care is considered conservative care because it's non-invasive and doesn't use narcotic drugs for pain management. As your premier Calgary chiropractor, we are dedicated to your satisfaction and success as a patient. If you're new to chiropractic treatment, below are our frequently asked questions.
How Does Chiropractic Care Work?
Chiropractic care treats the source of various ailments, starting with the spine. Chiropractors perform manual adjustments that help bring the spine and various joints into proper alignment, so that the body can naturally heal itself.
Chiropractic diagnoses and care may consist of the following:
Discussion of your specific issue and medical history.
Performing specific movement tests to help determine the problem.
Depending on the situation, an X-ray might be next to further identify any conditions or issues arising from the spine.
Based on findings, your doctor may also collaborate with other healthcare professionals to form a comprehensive treatment plan.
Discussion of the findings with your specific issue and an appropriate comprehensive treatment plan.
What Conditions Can Chiropractors Treat?
Millions of people of all ages receive chiropractic treatment to maintain optimal health. Some conditions that the chiropractor may treat include:
spinal decompression
Back pain
Degenerative disk disease
Chronic headaches/migraines
Arthritis/Osteoarthritis
Fibromyalgia
Carpal tunnel
Sciatica
Whiplash
Spondylolisthesis
Degenerative joint disease
Chiropractic care is widely used and endorsed by athletes and active individuals to help maintain optimal functioning for sports and active pursuits.
What Results Can I Expect from Treatment?
Depending on your current condition, medical history and age, many people find that they experience varying degrees of relief following a chiropractic treatment. However, some people (who have more stubborn backs) find that several sessions may be needed for improvement. The majority of patients find that their condition improves drastically when following a prescribed treatment plan with their doctor.
Is Going to a Chiropractor Safe?
Due to chiropractic treatments being non-invasive and drug-free, it has one of the highest safety records of any therapeutic service. Risks of complications resulting from chiropractic treatment are even lower than risks associated with over-the-counter medications.
However, if you do suffer from head or neck pain, be certain to discuss your symptoms in detail with your doctor. Occasionally, you may be referred to an outside specialist.
Should My Chiropractic Treatment Be Ongoing?
Depending on the recommended treatment plan made by your doctor, your care could last a few weeks, months etc. Because these treatments don't contain medications for pain management, visiting your doctor for each treatment is necessary.
To learn more about chiropractic treatment options and if it's right for you, talk to the specialists as Century Wellness in Calgary. We can assess your condition with an initial exam and imaging. We are dedicated to the balance and alignment of your back. Be pain free today!
Full Practice FAQ